In an act of immaculate journalistic infatuation, we bring you an academically comprehensive assessment of the top 10 challenges faced by Journalism students today. Roll tape.

1. When you've become allergic to the word "objective"


(Image via Tumblr)

You're emotionally scarred by the word "objective" or any of its derivatives for the next 27 decades. You're basically knowledgeable enough to know there's no such thing as objectivity in journalism, or any other activity that involves humans for that matter. Fairness and accuracy surely make for a more realistic alternative.

2. When you feel compelled to throw grammar at people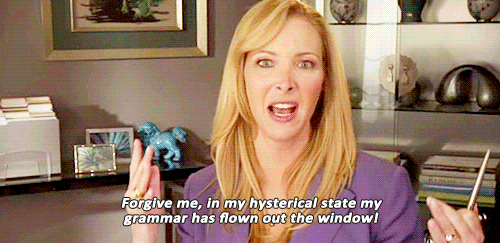 (Image via Giphy)

Decent grammar is a crucial skill for the survival of language, the human species and your relationships with other people. You often fall into the trap of categorizing fellow humans based on their language proficiency, but the apocalypse occurs when you, the self-professed grammar nazi, end up making a silly grammar mistake yourself.

3. When classes are more demanding than a full-time job


(Image via Tumblr)

Do you remember the 84,035 stories you wrote for your news writing class? Or the 687 interviews you did in a noble attempt to construct a decent investigative piece for your final?

4. When people start sending you random stuff to edit


(Image via Giphy)

Because your neighbor's neighbor asking for your help with their cousin's 9-year-old son's English essay is the epitome of normal. Yes.

5. When you insist on proper grammar when texting


(Image via Giphy)

I am an aspiring journalistic bombshell typist. Duh.

6. When you get sick of giving your opinion


(Image via Wordpress)

Given that the majority of your courses involve animated class discussions (AND most of your fellow journalism students are dramatically passionate about the art of talking), you sometimes prefer to keep your opinion to yourself. You know, all in the name of world peace.

7. When you've mastered the noble art of typo hunting


(Image via Tumblr)

There will be haters (no copyright infringement intended for Adidas' campaign).

8. When writer's block lasts more than three seconds


(Image via Tumblr)

"And I…tread a troubled track/my odds are stacked/I'll go back to black…" [Rightfully plagiarized from the unrivaled Amy Winehouse].

9. When not getting a byline is worse than death


(Image via Wordpress)

How is it even logical for my name not to appear on something I sacrificed three precious hours of my existence and 200% of my creativity to write? Huh? I demand justice.

10. When you spiritually identify with Microsoft Word


(Image via Tumblr)

You're still trying to figure out the true nature of your relationship and whether the feelings are mutual. Life is hard, I know.